Retailarc Merchandise has editions for businesses of different operational scales.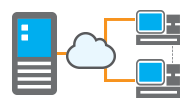 Retailarc Merchandise for Enterprises addresses the needs of multi-location chains and franchises. Its centralized administration functions provide powerful management and analytic tools for head office staff, while the POS delivers ease of use at the storefront.

Retailarc Merchandise for Independents is designed for one-off businesses or a small number of locations where centralized control is not critical. It delivers the sophisticated management and analytic functions of Enterprise Edition to small businesses at an affordable price.